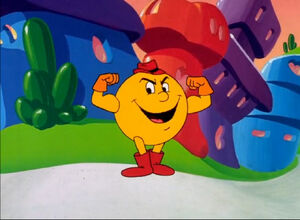 Pac-Man is the main character from Hanna-Barbera's Pac-Man TV cartoon, based on Namco's arcade game Pac-Man. He was voiced by Marty Ingels.
About Pac-Man
His wife is Ms. Pac-Man, whom he addresses as "Pepper". Their son is named Pac-Baby. Their pets are Chomp Chomp the dog and Sour Puss the cat.
Pac-Man's job in the cartoon is to protect the Power Pellet Forest from Mezmaron and his Ghost Monsters.