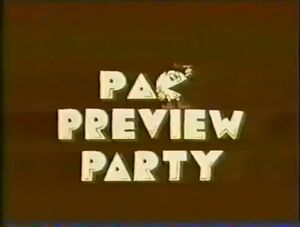 Pac-Preview Party is an hourlong television special, presented by Dick Clark. It was broadcast over ABC on September 19, 1982, previewing the network's Saturday-morning cartoons.
Guests
Walk-around versions of Scooby-Doo and Scrappy-Doo interacted with Clark and his audience of children.
Henry Winkler and Frank Welker entertained the audience by doing voices for Fonzie and his dog, Mr. Cool.
Willie Tyler did a ventriloquist act with his puppet, Lester.
Marty Ingels demonstrated his voice acting technique for Pac-Man.
Shows previewed
YouTube videos
Notes/Trivia
Dick Clark served as host of the revival of the game show The $25,000 Pyramid, which premiered on CBS the next day.
External links
Ad blocker interference detected!
Wikia is a free-to-use site that makes money from advertising. We have a modified experience for viewers using ad blockers

Wikia is not accessible if you've made further modifications. Remove the custom ad blocker rule(s) and the page will load as expected.