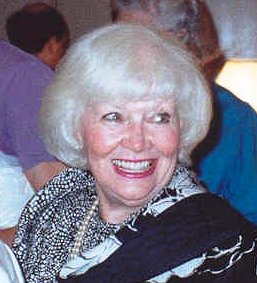 Penny Singleton (born Mariana Dorothy Agnes Letitia McNulty, September 15, 1908–November 12, 2003) was an American actress, best known for playing the lead role in the Blondie films from 1938 to 1950. For Hanna-Barbera, she was the voice of Jane Jetson.
Biography
Penny Singleton was born Mariana McNulty, the daughter of an Irish Philadelphian newspaperman, Benny McNulty. He was related to Jim Farley, Franklin Roosevelt's campaign manager and later postmaster general. As a child, she sang songs at a silent movie theater. After the sixth grade, she joined a touring vaudeville act called "The Kiddie Kabaret". Billed as Penny McNulty, she sang and danced with Milton Berle and Gene Raymond. Her first speaking part was in a Jack Benny Broadway show, "Great Temptations".
Moving to Hollywood, she took a new name after marrying dentist Lawrence Singleton in 1937. Her professional first name derived from having saved large amounts of 1-cent coins. She played a tough nightclub dancer in After the Thin Man (1936), and acted, sang and danced in Swing Your Lady (1938), one of the movies Humphrey Bogart regarded as his worst. Though naturally a brunette, she bleached her hair blonde ever since she got the role of Blondie in that long-running film series.
Her marriage to Laurence Singleton ended in divorce in 1940. Her second marriage, to Robert Sparks, lasted from 1941 until his death in 1960.
External links