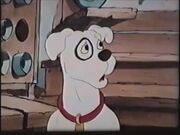 Pete the Pup
(September 6, 1929–January 28, 1946) was a Staffordshire bull terrier featured in the
Our Gang
comedy films. In Hanna-Barbera's animated series,
Peter Cullen
provided vocal effects for Pete.
History
When he was about 6 months old, Pal the Wonder Dog made a cameo appearance in the Harold Lloyd film The Freshman, in 1925.
Pal started out as "Tige" in the Buster Brown series in the 1920s. It was during this time that he acquired the circled eye, and when he was recruited to appear in the Our Gang comedies later that year, Hal Roach simply left it on, creating one of the most recognized dogs in film history. In the 1994 remake of The Little Rascals, the new Pete is an American bulldog.
Trainer and owner Lt. Harry Lucenay used one of Pal's offspring as Pete in the series after Pal was poisoned and died in 1930. This dog, named "Lucenay's Peter", was registered as a UKC American pit bull terrier.[3] Lucenay's Peter was bred by A.A. Keller. The dog was UKC registered under the name Purple Ribbon Peter (22558). A few other dogs played Petey, but Lucenay's Peter was the best known. After being fired from the Our Gang series in 1932, Harry Lucenay retired Peter to Atlantic City, where he was photographed with children at the Steel Pier.
Roach used a number of unrelated pit bulls to portray Pete in Our Gang until 1938. Lucenay's Peter continued from that point and died of old age on January 28, 1946, in Los Angeles at age 16, two years after the Our Gang series ended. Pete is buried at a Los Angeles Pet Memorial Park at Calabasas, Los Angeles County.
External links