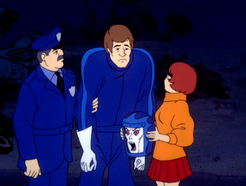 The Phantom Racer is the villain and was the disguise of Ken Rogers in "The Spooky Case of the Grand Prix Race", an episode of The Scooby-Doo Show. He had a trick car that could extend its wheels and go over other cars, capturing them.
Overview
According to Mr. Osbourne, the Phantom Racer was a famous Grand Prix driver who went off a cliff many years ago. His ghost sought vengeance on all race drivers. The phantom was revealed to be Ken Rogers, a race driver who plotted to steal other racers' cars and repaint them for sale overseas.
The Phantom Racer was capable of extreme cruelty. At one point in the episode, he put Shaggy Rogers in a cave and tried to seal the entrance with a brick wall.
External links
Ad blocker interference detected!
Wikia is a free-to-use site that makes money from advertising. We have a modified experience for viewers using ad blockers

Wikia is not accessible if you've made further modifications. Remove the custom ad blocker rule(s) and the page will load as expected.