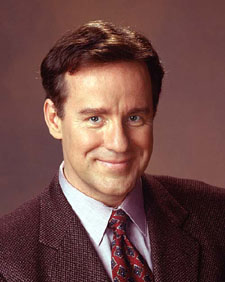 Philip Edward Hartman (September 25, 1948–May 28, 1998) was a Canadian voice actor. His roles for Hanna-Barbera included Inspector Bass on Fish Police and Calaboose Cal on Tom & Jerry Kids.
Biography
Feeling the need for a more creative outlet, Phil Hartman joined the comedy group The Groundlings in 1975. There he helped comedian Paul Reubens develop his character Pee-wee Herman.
Hartman co-wrote the screenplay for the film Pee-wee's Big Adventure and made recurring appearances on Reubens' show Pee-wee's Playhouse.
Hartman became well known in the late 1980s when he joined the NBC sketch comedy show Saturday Night Live. He won fame for his impressions, particularly of President Bill Clinton, and stayed on the show for eight seasons.
Called "the Glue" for his ability to hold the show together and help other cast members, Hartman won a Primetime Emmy for his SNL work in 1989.
His 1998 death was ruled homicide by firearm.
External links
Ad blocker interference detected!
Wikia is a free-to-use site that makes money from advertising. We have a modified experience for viewers using ad blockers

Wikia is not accessible if you've made further modifications. Remove the custom ad blocker rule(s) and the page will load as expected.