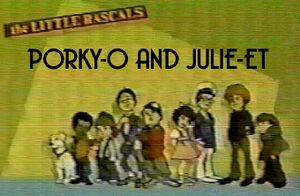 First aired: October 23, 1982
Rebroadcast: November 5, 1983
Story by: Unknown
Duration: 11 minutes
Cast
Summary
Porky has fallen in love with a blond girl named Julie, the daughter of the owner of the soda shop. Porky wants to go on a date with her, so the Rascals teach Porky some good table manners in preparation for Porky's first date. The gang set up a restaurant in a garage for the big date.
Notes/Trivia
In one scene, Porky is shown with a jar labeled "H&B Jam". This may be a reference to Hanna-Barbera Productions.
This episode was later rebroadcast on November 5, 1983, during the second season of the series.
In August 1984, this episode, along with "Cap'n Spanky's Showboat", were tied for having the most airings on ABC with eight airings apiece.
Ad blocker interference detected!
Wikia is a free-to-use site that makes money from advertising. We have a modified experience for viewers using ad blockers

Wikia is not accessible if you've made further modifications. Remove the custom ad blocker rule(s) and the page will load as expected.