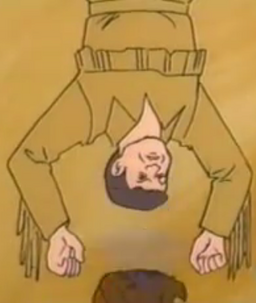 A possessed Davy Crockett mannequin appears in "The Phantom of the Country Music Hall", an episode of The New Scooby-Doo Movies. It was the disguise of Bertha the cleaning woman, who was actually a man in drag (voiced by Vincent Van Patten).
History
In the Davy Crockett disguise, "Bertha" worked with his partner in crime, Ben Bing, who was disguised as a possessed Viking mannequin, to steal money.
External links
Ad blocker interference detected!
Wikia is a free-to-use site that makes money from advertising. We have a modified experience for viewers using ad blockers

Wikia is not accessible if you've made further modifications. Remove the custom ad blocker rule(s) and the page will load as expected.