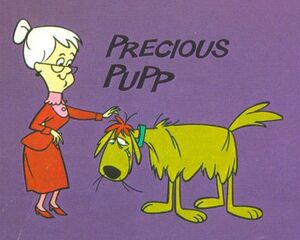 Precious Pupp was a clever, yet non-speaking Afghan dog (who chuckles in a "wheezing laugh" almost exactly like Muttley, a character and his grandson introduced three years later) that always outsmarts his enemies. He lived with his owner, Granny Sweet. It first broadcast as part of The Atom Ant/Secret Squirrel Show. Only 26 episodes were produced.
Episode List
Season 1
Precious Jewels -
Doggone Dognapper -
Bites and Gripes -
Queen of the Road -
Crook-out Cook Out -
Next of Kin -
Bowling Pinned -
Poodle Pandemonium - Precious and Bruiser Bulldog compete for a poodle's love.
Dog Tracks -
Sub-Marooned -
Lady Bugged -
Test in the West -
Bones and Groans -
Butterfly Nut -
Precious Bone -
The Bird Watcher -
Dog Trained -
Oliver Twisted -
Pup, Skip, and Jump -
A Grapple for the Teacher -
Season 2
Pot Time Work -
A Fiend in Need -
Ski Sickness -
Mascot Massacre -
A.M. Mayhem -
Girl Whirl - Precious and Bruiser (both in hero costumes) compete with each other by seeing who can do heroic deeds to impress a girl poodle.
Ad blocker interference detected!
Wikia is a free-to-use site that makes money from advertising. We have a modified experience for viewers using ad blockers

Wikia is not accessible if you've made further modifications. Remove the custom ad blocker rule(s) and the page will load as expected.