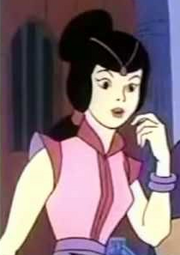 Princess Nida is a character in the Arabian Knights segment of The Banana Splits Adventure Hour. She is voiced by Shari Lewis.
Biography
The daughter of the caliph of El-Rabaal, Princess Nida is a lovely teenage girl who is the cousin of Prince Turhan. She is a master of disguise and an expert of voice mimicry. She is also skilled in martial arts and can hold her own in the Knights' battles.
Ad blocker interference detected!
Wikia is a free-to-use site that makes money from advertising. We have a modified experience for viewers using ad blockers

Wikia is not accessible if you've made further modifications. Remove the custom ad blocker rule(s) and the page will load as expected.