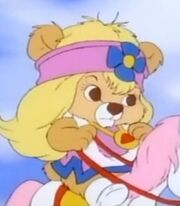 Princess Paw Paw is the princess of the Paw Paws. She is Wise Paw's daughter, and she is voiced by Susan Blu.
Biography
Princess Paw Paw is Wise Paw's daughter. She is beautiful and cares for everyone and the village. On her necklace she carries around the Mystic Moonstone, which has the power to bring Totem Bear, Tortoise and Eagle to life. When she blows on her whistle, she can summon her flying horse, Flying Cloud.
Ad blocker interference detected!
Wikia is a free-to-use site that makes money from advertising. We have a modified experience for viewers using ad blockers

Wikia is not accessible if you've made further modifications. Remove the custom ad blocker rule(s) and the page will load as expected.