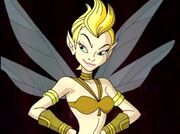 Fairy Princess Willow is a character in Scooby-Doo and the Goblin King.
Overview
Princess Willow is the tomboyishly beautiful daughter of the powerful Goblin King. She is rebellious and loves to explore. When we first see her, Willow plays pranks on the wicked magician Krudsky, which leads to her capture. Krudsky steals her fairy powers and she remains his prisoner throughout most of the film.
Willow is finally released, but the Goblin King scolds her and grounds her for sneaking out and for her selfishness, but he admits he's glad to have her back. In the end, Willow brings Jack-O'Lantern back to life after a battle, and blesses Shaggy Rogers and Scooby-Doo with the magic of the fairies.
Personality
Willow has been sneaky, rebellious and a troublemaker, as she sneaked out before she was meant to leave. However, she is also kind and friendly, seeing as she blessed Shaggy and Scooby-Doo with the powers of the fairies. She also loves her father.
Ad blocker interference detected!
Wikia is a free-to-use site that makes money from advertising. We have a modified experience for viewers using ad blockers

Wikia is not accessible if you've made further modifications. Remove the custom ad blocker rule(s) and the page will load as expected.