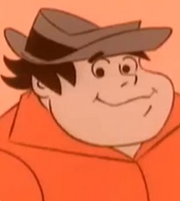 Puggsy is one of the main Characters from the Fangface Tv Show and voiced by Bart Braverman.

Bio: Sherman's best friend, is the group' wise guy. Short, stout, and with a fuhgedaboudit demeanor, Puggsy has the most negative attitude of the gang, but that comes mostly from his bad luck and constant run-ins with Fangface, who upon transforming always wants to maul or eat Puggsy before remembering the task at hand.
Ad blocker interference detected!
Wikia is a free-to-use site that makes money from advertising. We have a modified experience for viewers using ad blockers

Wikia is not accessible if you've made further modifications. Remove the custom ad blocker rule(s) and the page will load as expected.