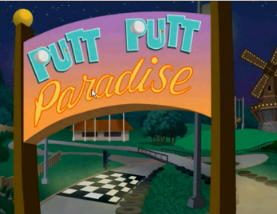 Putt Putt Paradise is a miniature golf course in "A Terrifying Round with a Menacing Metallic Clown", an episode of What's New, Scooby-Doo?.
History
Putt Putt Paradise, in the city of Nice Rapids, was host to the International Putt Putt Championship, in which Shaggy Rogers was defending his title. It was also home to the Menacing Metallic Clown, who was kidnapping mini-golf players.
External links
Ad blocker interference detected!
Wikia is a free-to-use site that makes money from advertising. We have a modified experience for viewers using ad blockers

Wikia is not accessible if you've made further modifications. Remove the custom ad blocker rule(s) and the page will load as expected.