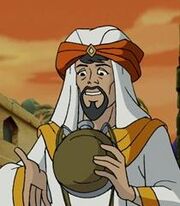 Prince Qasl Al-Famir is the leader of a small city in Egypt and is voiced by James Arnold Taylor.

History: What's New, Scooby-Doo? Season two He hypnotized Melbourne O'Reilly into being Pharaoh Scamses as a diversion to divert water over to Zalquara where his wife Madamoiselle Chantal worked. (Mummy Scares Best)
Ad blocker interference detected!
Wikia is a free-to-use site that makes money from advertising. We have a modified experience for viewers using ad blockers

Wikia is not accessible if you've made further modifications. Remove the custom ad blocker rule(s) and the page will load as expected.