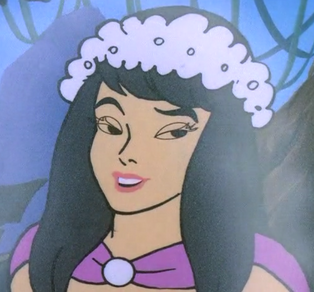 The spelling of this character's name needs to be verified from an official source. See Character naming conventions.
Queen Mahoney is the ghost of a Polynesian queen in the Goober and the Ghost Chasers episode "Aloha Ghost".
Biography
She and King Manamoa protected Goober and the gang by freezing the impostor. She explained that she was protecting the gang because she couldn't let the impostor endanger them and impersonate Matamoa. She left to join her king at his resting place.
Ad blocker interference detected!
Wikia is a free-to-use site that makes money from advertising. We have a modified experience for viewers using ad blockers

Wikia is not accessible if you've made further modifications. Remove the custom ad blocker rule(s) and the page will load as expected.