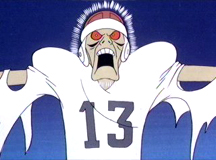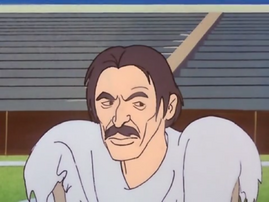 The Rambling Ghost appeared in "The Ghost That Sacked the Quarterback", an episode of The Scooby-Doo Show. He was the disguise of Buck Bender.
History
Buck Bender was an old coach that Mr. Prentice fired years ago. That newspaper clipping had incriminating evidence against Bender. He was taking revenge on the stadium owner for firing him.
Other versions
In Scooby-Doo 2: Monsters Unleashed, the Rambling Ghost costume was on display at the Coolsonian Criminology Museum. The costume was to the left of Shaggy Rogers and Daphne Blake as they talked about putting up a good image.
External links
Ad blocker interference detected!
Wikia is a free-to-use site that makes money from advertising. We have a modified experience for viewers using ad blockers

Wikia is not accessible if you've made further modifications. Remove the custom ad blocker rule(s) and the page will load as expected.