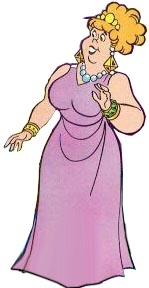 Regina Rich is the mother of Richie Rich in the Harvey Comics series of publications, as well as in the Hanna-Barbera cartoon series. She was voiced by Joan Gerber, who also lent her voice to Irona the Robot Maid.
In the comic book series, she is a redhead, while in the animated series, she has blond hair. She also has a passion for jewelry. Like her husband, Richard Rich, Sr., she was never strict towards Richie, and did treat him with a lot of love and respect. On two known but rare occasions in the comic book series, whenever Richie did something wrong, she would give Richie a rare spanking.
Ad blocker interference detected!
Wikia is a free-to-use site that makes money from advertising. We have a modified experience for viewers using ad blockers

Wikia is not accessible if you've made further modifications. Remove the custom ad blocker rule(s) and the page will load as expected.