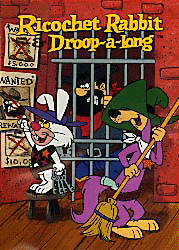 Ricochet Rabbit & Droop-a-Long was a segment of The Magilla Gorilla Show, and later appeared on Peter Potamus and his Magic Flying Balloon.
Background
Ricochet Rabbit (voiced by Don Messick) worked as a sheriff in a Western setting called Hoop 'n' Holler. Ricochet, true to his name, would bounce off all the walls yelling "ping-ping-ping!" His deputy, Droop-a-Long Coyote (voiced by Mel Blanc, impersonating Ken Curtis' Festus Haggen character from the CBS western Gunsmoke), was never able to be as "jumpy" and would end up crashing through a window, or some similar accident, except on one occasion when Ricochet and Droop-a-Long were running away from a bear. Unfortunately for both of them, the bear also managed to bounce off.
In addition to his speed, Ricochet was known for using trick bullets against his opponents: for example, a bullet that would stop in mid-flight and hover while striking the bad guy with an impossibly oversized mallet or drawing a target on his nose and punching the target, or exploding after inside bigger compartments of the bullet.
Ricochet Rabbit's catchphrase consisted of three quick pings: "ping, ping, PING!", followed by his name. The "Ping" is often mistakenly misquoted as a "Bing". In the episode "Rapid Romance", Ricochet clearly signs an autograph for a fan using the word "Ping".
Cast
Episode List
Atchison, Topeka, & Sam Jose
Good Little Bad Guy
Cradle Robber
West Pest
TV Show
Annie Hoaxley
School Daze
Sheepy Wolf
Big Thinker
Two Too Many
Bad Guys Are Good Guys
Itchy-Finger Gun Slinger
Clunko Bunko
Slick Quick Gun
Mostly Ghostly
Will 'O The Whip
Cactus Ruckus
Rapid Romance
El Loco, Loco, Loco, Loco, Diablo
Big Town Show Down
Space Sheriff
Red Riding Ricochet
Jail Break-In