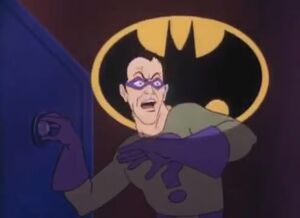 The Riddler is a super-villain enemy of Batman who commits crimes revolving around an obsession with riddles. His mental psychosis results from a deep inner need to prove that he's smarter and therefore better than others, which causes him to leave challenging clues behind in otherwise perfect crimes. This psychological compulsion has resulted in him being repeatedly imprisoned in Arkham Asylum. Despite this obvious flaw, he is otherwise an extremely intelligent criminal mastermind. He has been associated with the Legion of Doom and the Secret Society of Super-Villains. The Riddler was created by Bill Finger and Dick Sprang, first appearing in Detective Comics #140 (1948).
The Riddler was name-checked by Robin in an episode of The New Scooby-Doo Movies, but his only Hanna-Barbera appearances were as a member of the Legion of Doom on Challenge of the Superfriends, where he was voiced by Michael Bell.
External links
Ad blocker interference detected!
Wikia is a free-to-use site that makes money from advertising. We have a modified experience for viewers using ad blockers

Wikia is not accessible if you've made further modifications. Remove the custom ad blocker rule(s) and the page will load as expected.