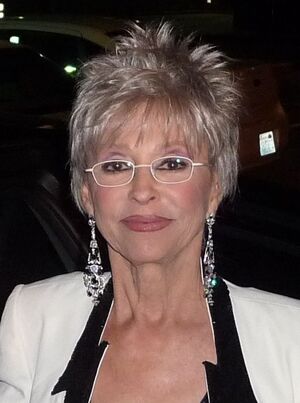 Rita Moreno (born Rosita Dolores Alverio, December 11, 1931, in Humacao, Puerto Rico) is a Puerto Rican actress, best known for her work on the 1970s PBS series The Electric Company. She was the voice of Doña Dolores in Scooby-Doo and the Monster of Mexico.
Trivia
Rita Moreno cites Citizen Kane (1941) as her all-time favorite film.
During the first season (episode 19) of The Electric Company (1971), Moreno was in a sketch in which she shouted "Hey, you guys!" repeatedly. It became so popular with the show's producers that they decided to use it as the catchphrase in their opening, starting with season two.
Moreno is one of only 12 EGOT entertainers, which means that she won at least one of all of the four major entertainment awards: Emmy, Grammy, Oscar and Tony. The others in chronological order are Richard Rodgers, Barbra Streisand, Helen Hayes, Liza Minnelli, John Gielgud, Audrey Hepburn, Marvin Hamlisch, Jonathan Tunick, Mel Brooks, Mike Nichols, Whoopi Goldberg and James Earl Jones. Minnelli won a Special Grammy, and Jones won an Honorary Academy Award.
Moreno appeared in the pilot for the sitcom Empty Nest (1988), which was an episode of The Golden Girls (1985). The premise was changed in the final version of Empty Nest, in which she did not appear.
External links
Ad blocker interference detected!
Wikia is a free-to-use site that makes money from advertising. We have a modified experience for viewers using ad blockers

Wikia is not accessible if you've made further modifications. Remove the custom ad blocker rule(s) and the page will load as expected.