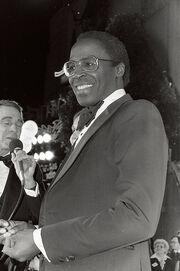 Robert Guillaume (November 20, 1927–October 24, 2017) was an American actor, best known as the star of the ABC sitcom Benson. For Hanna-Barbera, he was the voice of Detective Catfish on Fish Police.
Biography
Robert Guillaume was born as Robert Peter Williams (Guillaume is the French form of William) in St. Louis. He studied at St. Louis University and Washington University and served in the U.S. Army before pursuing an acting career.
On leaving the university, Robert joined the Karamu Players in Cleveland and performed in musical comedies and opera. He toured the world in 1959 as a cast member of the Broadway musical Free and Easy. He made his Broadway debut in Kwamina in 1961. (A reference on a Columbia LP shows this as "Dwamina".) Other stage appearances included Golden Boy; Tambourines to Glory; Guys and Dolls, for which he received a Tony Award nomination; Jacques Brel Is Alive and Well and Living in Paris; the Los Angeles production of The Phantom of the Opera (succeeding Michael Crawford in the lead role), and Purlie!. Added roles were in Katherine Dunham's Bambouche and in Fly the Blackbird. In 1964 he portrayed Sportin' Life in a revival of Porgy and Bess at New York's City Center. Robert has been a member of the Robert de Cormier Singers, performing in concerts and on television. He has soloed on The Tonight Show. He recorded a LP album, Columbia CS9033, titled Just Arrived, as a member of The Pilgrims, a folk trio, with Angeline Butler and Millard Williams.
Some minor controversy was stirred when Guillaume replaced Michael Crawford as The Phantom in the National tour of The Phantom of the Opera. Guillaume was the first, and to date only, black actor to assume the role. No recording of his performance exists except for a brief excerpt captured on a Sunday Morning episode on CBS shortly after his debut.
External links