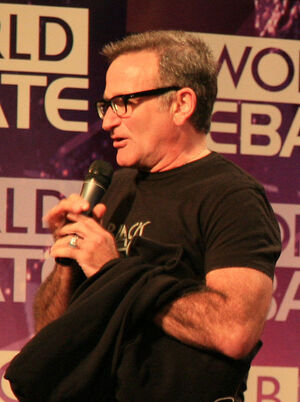 Robin McLaurin Williams (July 21, 1951–August 11, 2014) was a prolific American actor, comedian and impressionist. He reprised his most iconic role in the animated series of Mork & Mindy. In 1980, Williams played the title role of Popeye in 1980 for Paramount and Walt Disney Pictures, for which Hanna-Barbera created an animated segment.
Biography
Williams briefly studied political science before enrolling at Juilliard to study theatre. After he left Juilliard, he performed in nightclubs, where he was discovered for the role of Mork in an episode of Happy Days and the subsequent Mork & Mindy TV series.
Williams' wild comic talent involved a great deal of improvisation, following in the footsteps of his idol, Jonathan Winters. Williams was also an effective dramatic actor, in such films as Dead Poets Society and What Dreams May Come.
External links
Ad blocker interference detected!
Wikia is a free-to-use site that makes money from advertising. We have a modified experience for viewers using ad blockers

Wikia is not accessible if you've made further modifications. Remove the custom ad blocker rule(s) and the page will load as expected.