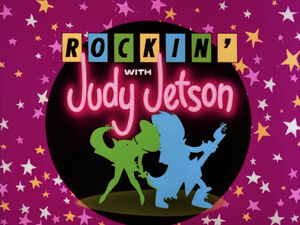 Rockin' with Judy Jetson is a 1988 animated Jetsons TV movie for syndication. It is the second of the two Jetsons movies in the Hanna-Barbera Superstars 10 series and also notably the final Jetsons production to feature all the cast members from the original series.
Plot
Judy Jetson and her friends idolize rock star Sky Rocker and attend his concert, despite George Jetson's disapproval of rock concerts. Judy had just written a new song and wanted to give it to Sky. Meanwhile, evil space queen Felonia Funk is out to destroy music and send her cronies, Quark and Quasar, to give Commander Comsat a message containing a code that will help Felonia find a rare crystal that will assist her evil doings. Sky Rocker gets the wrong sound and it became a huge sensation, leading to Felonia's kidnapping of Sky Rocker and a music group of music much-loved aliens, the Zoomies, to help Judy. Meanwhile, Elroy and Astro pursue Judy as she is chased by space villains and George goes to find his daughter.
Voices
Janet Waldo - Judy Jetson
George O'Hanlon - George Jetson
Daws Butler - Elroy Jetson
Penny Singleton - Jane Jetson
Don Messick - Astro
Jean Vander Pyl - Rosie The Robot Maid
Mel Blanc - Mr. Spacely
Rob Paulsen - Billy Booster/Sky Rocker, Zany
Ruth Buzzi - Felonia Funk
Cindy McGee - Iona
Pat Musick - Starr, Fan Club President, Zowie
Charlie Adler - Quark, Zappy
Selette Cole - Rhoda Street
Pat Fraley - Zilchy
Beau Weaver - Ramm, DJ
Eric Suter - Nicky
Hamilton Camp - Mr. Microchips, Manny
Peter Cullen - Gruff, Commander Comsat, Bouncer
Home video releases
WorldVision released a VHS tape in 1989. It is out of print, but still can be purchased on eBay and Amazon. In August 2011, a DVD was released via there Warner Archive Collection.
Trivia
For some reason, WorldVision's trailer for the original VHS release of this movie used clips from the original series episode "A Date With Jet Screamer" instead of the movie itself.
The instrumental for "Rock Round the Galaxy" was used at the start of the company picnic sequence in The Jetsons Meet the Flintstones.
Ad blocker interference detected!
Wikia is a free-to-use site that makes money from advertising. We have a modified experience for viewers using ad blockers

Wikia is not accessible if you've made further modifications. Remove the custom ad blocker rule(s) and the page will load as expected.