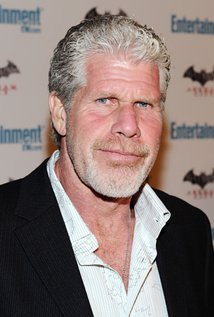 Ronald Francis Perlman (born April 13, 1950, in New York City) is an American actor. He performed the voices of Hotep and Ancient One #2 in Scooby-Doo! in Where's My Mummy?.
Biography
Ron Perlman, a classically trained actor, has appeared in countless stage plays, feature films and television productions. With a career spanning over three decades, Perlman has worked alongside many famous actors.
While he has never been a bankable star, Perlman has always had a large fan base. He started out strong as Amoukar, one of the tribesmen in Jean-Jacques Annaud's Academy Award-winning film Quest for Fire (1981), for which he got a Genie nomination. Perlman teamed up with Annaud again, this time as a hunchback named Salvatore in The Name of the Rose (1986). His first real breakthrough came later when he landed the role of Vincent, the lion-man, opposite Linda Hamilton in the cult CBS series Beauty and the Beast (1987). His work in this role earned him not only a Golden Globe Award but an underground fan following. Sadly, the series got cancelled in its third season, shortly after the death of Hamilton's character.
It was not until much later that he got worldwide fame when his good friend Guillermo del Toro helped him land the title role in the big-budget comic book movie Hellboy (2004). Del Toro fought the studio executives for four years because they wanted a more secure name, but he stood his ground. In 2004, after almost 25 years in and out of obscurity, Perlman became a household name and a coveted actor. Perlman has had one of the most offbeat careers in film, playing everything from a fanciful ape-man to an aging transsexual, and will always be a rarity in Hollywood.
External links
Ad blocker interference detected!
Wikia is a free-to-use site that makes money from advertising. We have a modified experience for viewers using ad blockers

Wikia is not accessible if you've made further modifications. Remove the custom ad blocker rule(s) and the page will load as expected.