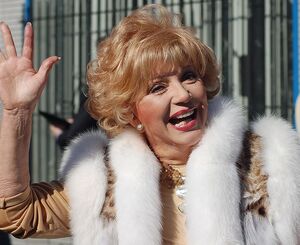 Ruta Lee (born Ruta Mary Kilmonis, May 30, 1936, in Montréal) is a Canadian-American television personality, best known as the hostess on the NBC game show High Rollers. Her voice roles for Hanna-Barbera included Hidea Frankenstone on The Flintstone Comedy Show and Revolta in Scooby-Doo and the Ghoul School.
Trivia
Lee has been married since 1976 to Webster Lowe Jr.
Lee is chairwoman of The Thalians, an organization for the treatment of mental health at Cedars-Sinai Hospital in Los Angeles. Debbie Reynolds is the organization's president. Both women have been actively involved in building this celebrity-run organization for over 30 years.
Lee loves it when fans remember her Twilight Zone (1959) episode, "Twilight Zone: A Short Drink from a Certain Fountain (#5.11)" (1963).
Lee and her husband own several houses scattered across the United States. In her acting travels, she stays at these different houses for varied periods of time. About her house-hopping travels she jokes, "I sleep around."
Lee received a star on the Hollywood Walk of Fame on October 10, 2006, in front of Grauman's Chinese Theatre, where she once worked as an usher and candy girl. Her friends Debbie Reynolds and Alex Trebek were in attendance.
External links
Ad blocker interference detected!
Wikia is a free-to-use site that makes money from advertising. We have a modified experience for viewers using ad blockers

Wikia is not accessible if you've made further modifications. Remove the custom ad blocker rule(s) and the page will load as expected.