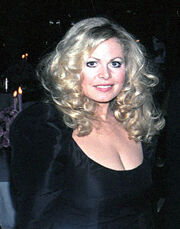 Sally Ann Struthers
(born July 28, 1947, in Portland, Oregon) is an American comic actress, best known for her portrayal of Gloria Bunker Stivic on the
CBS
sitcom
All in the Family
.
Her Hanna-Barbera voice credits include:
Struthers made her TV debut as a dancer on one of Herb Alpert's specials.
Besides acting, Struthers was a longtime TV spokeswoman for the Christian Children's Fund, appearing in several extended public service spots for the charity through the 1980s. She also is a primitive artist, working in acrylics and watercolors.
External links
Ad blocker interference detected!
Wikia is a free-to-use site that makes money from advertising. We have a modified experience for viewers using ad blockers

Wikia is not accessible if you've made further modifications. Remove the custom ad blocker rule(s) and the page will load as expected.