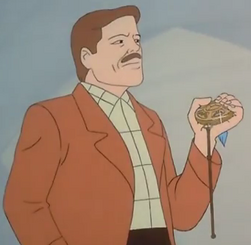 Sam Crenshaw was the owner of his own construction company, Crenshaw Construction Co. Ltd.and voiced by John Stephenson
Physical appearance: He is a Caucasian male with brown hair and a mustache.

History: The Scooby-Doo Show Season one, He dressed up like a demon in order to steal things from the buried city under Seattle. He also tried to use the disguise of an old sailor to make his getaway.
Appearances: The Scooby-Doo Show, 110. A Frightened Hound Meets Demons Underground
Ad blocker interference detected!
Wikia is a free-to-use site that makes money from advertising. We have a modified experience for viewers using ad blockers

Wikia is not accessible if you've made further modifications. Remove the custom ad blocker rule(s) and the page will load as expected.