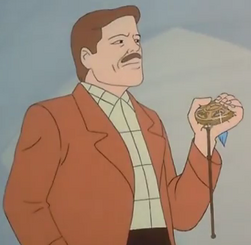 Sam Crenshaw appears in "A Frightened Hound Meets Demons Underground", an episode of The Scooby-Doo Show. He was the owner of his own construction company, Crenshaw Construction Co. Ltd., and was voiced by John Stephenson.
Physical appearance
He is a Caucasian male with brown hair and a mustache.
History
Crenshaw dressed up like a demon in order to steal things from the buried city under Seattle. He also tried to use the disguise of an old sailor to make his getaway.
External links