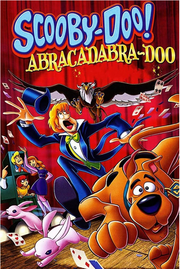 Scooby-Doo! Abracadabra-Doo is a direct-to-video animated telefilm, released in 2010, starring Scooby-Doo.
Plot
The gang goes on a trip to check on Velma Dinkley's younger sister, Madelyn. Madelyn has been studying stage magic at the Whirlen Merlin Magic Academy, where apparently there have been sightings of a giant griffin. The gang decides to investigate.
Voice cast
Ad blocker interference detected!
Wikia is a free-to-use site that makes money from advertising. We have a modified experience for viewers using ad blockers

Wikia is not accessible if you've made further modifications. Remove the custom ad blocker rule(s) and the page will load as expected.