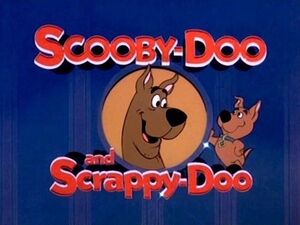 Scooby-Doo and Scrappy-Doo is the first series in the Scooby-Doo franchise to feature Scooby's nephew, Scrappy-Doo. It was also the last series to feature Fred Jones and Velma Dinkley as regular members of the cast, until the premiere of What's New, Scooby-Doo? 23 years later, in 2002.
At the request of one ABC executive, Lennie Weinrib was initially given the role of Scrappy-Doo. After the executive left the network in 1980, Don Messick doubled as Scooby and Scrappy.
Voice cast
Episodes
The Scarab Lives!
The Night Ghoul of Wonderworld
Strange Encounters of a Scooby Kind
The Neon Phantom of the Roller Disco!
Shiver and Shake, That Demon's a Snake
The Scary Sky Skeleton
The Demon of the Dugout
The Hairy Scare of the Devil Bear
Twenty Thousand Screams Under the Sea
I Left My Neck in San Francisco
When You Wish Upon a Star Creature
The Ghoul, the Bat and the Ugly
Rocky Mountain Yiiii!
The Sorcerer's a Menace
Lock the Door, It's a Minotaur
The Ransom of Scooby Chief
DVD releases
Selected episodes of Scooby-Doo and Scrappy-Doo have been included in the Scooby-Doo: 13 Spooky Tales DVD series. In early February 2015, Warner Archive announced a DVD release of Scooby-Doo and Scrappy-Doo: The Complete Season 1. It was released on April 28.