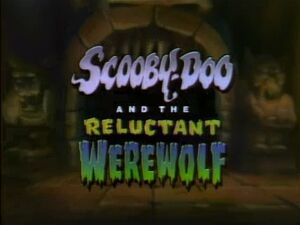 Scooby-Doo and the Reluctant Werewolf is one of the three animated telefilms in the Hanna-Barbera Superstars 10 series that starred Scooby-Doo, Shaggy Rogers and Scrappy-Doo. It was also the last movie in the Superstars 10 anthology series.
Synopsis
Count Dracula transforms Shaggy into a werewolf and forces him to compete against other monsters in an auto race.
Voice cast
Trivia
This is Scrappy-Doo's last appearance in an animated Scooby-Doo production (not counting the 2002 live-action film).
For some reason, the trailer for WorldVision's VHS release of the film used clips from the Scooby-Doo and Scrappy-Doo episode "Moonlight Madness".
External links
Ad blocker interference detected!
Wikia is a free-to-use site that makes money from advertising. We have a modified experience for viewers using ad blockers

Wikia is not accessible if you've made further modifications. Remove the custom ad blocker rule(s) and the page will load as expected.