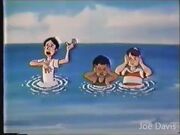 Originally aired: October 9, 1982
Story by: Unrevealed
Duration: 30 seconds
Cast
Summary
Alfalfa's famous off-key singing is getting on Spanky's and Buckwheat's nerves while they are wading in the ocean, and decide to rent a scuba outfit on the beach. Buckwheat and Spanky were relieved, while Alfalfa was still singing while underwater.
Notes/Trivia
Alfalfa is known for slightly altering the lyrics of famous folk songs. In this skit, he sang "Oh My Darla", a parody of the folk song "Oh My Darling Clementine" (Darla doesn't appear in this skit). In "Cap'n Spanky's Showboat", he sang "I've Been Working on the Steamboat", an altered version of "I've Been Working on the Railroad", while giving the ship's paddle wheel a new paint job.
This skit was originally aired in the third episode of Season 1, but was later moved to Epusode 12 in the same season. It was replaced by "Scoop Dupes" in subsequent airings of Episode 3. There is no certainty if the 1982 animators' strike may have been to blame for the delay in airing the remaining two 30-second vignettes.
Ad blocker interference detected!
Wikia is a free-to-use site that makes money from advertising. We have a modified experience for viewers using ad blockers

Wikia is not accessible if you've made further modifications. Remove the custom ad blocker rule(s) and the page will load as expected.