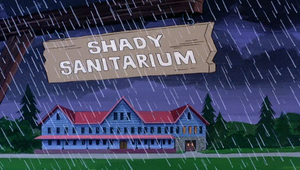 The Shady Sanitarium is a Canadian mental hospital in "The Harum-Scarum Sanitarium", an episode of The Scooby-Doo Show. It is near Niagara Falls in Ontario.
Personnel
Dr. Tooksbury is the owner of the sanitarium. He operates it with his two guard dogs, Cuddles and Schnookums. The previous owner, Dr. Coffin, is deceased.
History
The sanitarium was losing potential patients because it was the center of a gold-smuggling operation, elaborately covered up by Officer Oldfield posing as the ghost of Dr. Coffin.
External links
Ad blocker interference detected!
Wikia is a free-to-use site that makes money from advertising. We have a modified experience for viewers using ad blockers

Wikia is not accessible if you've made further modifications. Remove the custom ad blocker rule(s) and the page will load as expected.