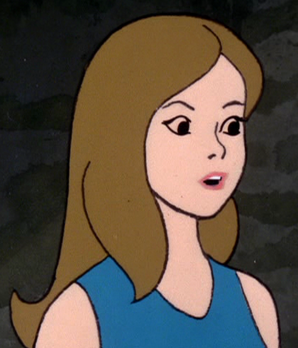 Sharon Wetherby is a friend of the Scooby-Doo gang, played by Indira Stefanianna Christopherson. She appears in "What the Hex Going On?", an episode of Scooby Doo Where Are You!
About Sharon
Sharon is a teenage Caucasian girl, with long dusty brown hair. She wears a blue dress and black high heels.
History
While the gang visited the Wetherbys, they discovered that Sharon's Uncle Stuart had an old-age curse put on him (that would quickly reduce him to just a skeleton) by the ghost of Elias Kingston, as a warning to the rest of the family to return his fortune to him by morning at the Kingston Mansion. During the case, she was kidnapped by the ghost, because she had seen that Uncle Stuart's aging effect was just make-up. In reality, Stuart acted as the ghost of Elias Kingston to keep his family's fortune all to himself.
External links