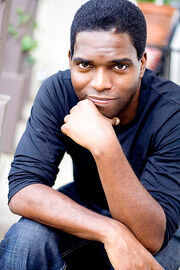 Shavar Malik Ross
(born March 4, 1971, in South Bronx, New York) is an American actor, filmmaker and photographer, born in New York and raised in Macon, Georgia. He was the voice of
Buckwheat
in the Hanna-Barbera version of
The Little Rascals
.
Biography
Ross is best known as Dudley Johnson on the NBC sitcom Diff'rent Strokes, having been chosen from over 250 other boys who auditioned for the role. He also portrayed the character Reggie in the 1985 film Friday the 13th: A New Beginning. Besides acting, Ross owns his own film production company, Tri-7 Entertainment, and was pastor of the Alive Church in Los Angeles for four years.
He and his wife, Jacqueline, have been married since December 1992. They have two children: a son, Seven Shavar Ross, born in August 1993, and a daughter, Chelsea Lynn Ross, born in February 2005.
External links
Ad blocker interference detected!
Wikia is a free-to-use site that makes money from advertising. We have a modified experience for viewers using ad blockers

Wikia is not accessible if you've made further modifications. Remove the custom ad blocker rule(s) and the page will load as expected.