Ad blocker interference detected!
Wikia is a free-to-use site that makes money from advertising. We have a modified experience for viewers using ad blockers

Wikia is not accessible if you've made further modifications. Remove the custom ad blocker rule(s) and the page will load as expected.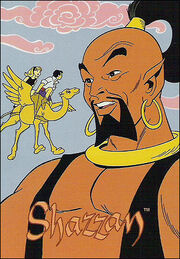 Shazzan! is an animated adventure series, produced by Hanna-Barbera for CBS in 1967.
After they find a pair of magic rings, twins Chuck and Nancy discover that joining the rings takes them back to pre-Islamic Arabia. There they meet a powerful genie named Shazzan, who enlists their help in finding his true master. To aid them, Shazzan gives the twins a winged camel named Kaboobie, among other magical items.
Voice cast
Episodes
The Living Island
Valley of the Giants
The Underground World
Demon in a Bottle
The Black Sultan
City of the Tombs
The Master Wizard of Mizwa
Master of the Thieves
City of Brass
The Flaming Ruby
The Evil Jester of Masira
Ring of Samarra
Demon in the Bottle Returns
The Young Rajah of Kamura
The Forest of Fear
The Sky Pirates of Basheena
The Idol of Turaba
Lord of the Shadows
Keys of the Zodiac
The Three Horsemen of Mandragora
The Diamond of El Raphir
The Impossible Quest of Naziz
The Land of Neverwas
The Circus of Zahran
Nastrina of the Flame
A Thousand and One Tricks
Raschild, The Apprentice Sorcerer
Baharuum, The Befuddled
A Pound of Evil Magic
The Maze of the Mercuraad
Kahn of the North Wind
The Mirage Maker
The Magical Kingdom of Centuria
Quest for the Magic Lamp
Mysterio, the Mini-Magi
Sorcerer of the Mist