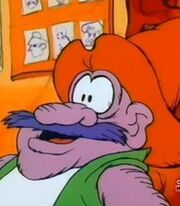 Sheriff Pudge Trollsom
(voiced by
Alan Oppenheimer
) is the longtime sheriff of Troll County on
Trollkins
, which can sometimes be a matter of "easier said than done," especially when it emerges that he and
Deputroll Flake Furkle
are dozing off in the office on lazy summer afternoons when a radio call (usually from
Mayor Trolliver J. Lumpkin
) comes in seeking the Troll Patrol's assistance.
Deputroll Dolly Durkle
also serves with the Troll Patrol, at least in early episodes.
Sheriff Trollsom has a daughter, Pixlee Trollsom, whose safety and welfare are a perennial concern.
Ad blocker interference detected!
Wikia is a free-to-use site that makes money from advertising. We have a modified experience for viewers using ad blockers

Wikia is not accessible if you've made further modifications. Remove the custom ad blocker rule(s) and the page will load as expected.