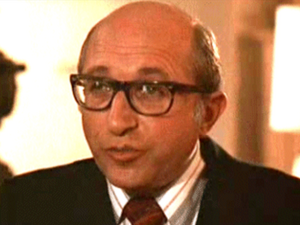 Sidney Miller (born Sydney L. Miller, October 16, 1916–January 10, 2004) was an American actor and television director.
Biography
Sidney Miller was born Sydney L. Miller in Shenandoah, Pennsylvania, on October 22, 1916, the son of Polish immigrants who already had two daughters. When Sydney was 14, his father, a tailor, sold his business and moved the family to Los Angeles. There Sydney got the acting bug, and his first film was an uncredited bit part in Penrod and Sam (1931).
Sidney Miller may well best be remembered for having directed Lou Costello's only starring film after his break-up with Bud Abbott, The 30-Foot Bride of Candy Rock (1959), which unfortunately didn't do the career of either man much good. In the 1960s he directed many television series episodes, such as My Favorite Martian (1963), Get Smart (1965) and The Addams Family (1964) and played small parts in several films and TV shows. In the 1970s, his onscreen output declined and he did much voice-over work in animated series.
Hanna-Barbera voice roles
External links
Ad blocker interference detected!
Wikia is a free-to-use site that makes money from advertising. We have a modified experience for viewers using ad blockers

Wikia is not accessible if you've made further modifications. Remove the custom ad blocker rule(s) and the page will load as expected.