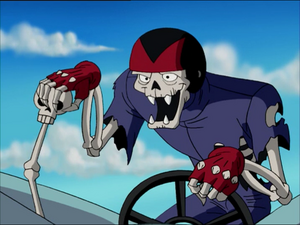 A skeleton driver appears in "Gentlemen, Start Your Monsters!", an episode of What's New, Scooby-Doo?. It was a remote-controlled robot capable of driving a monster truck.
Physical appearance
It appears to be a living human skeleton with only four sharp teeth. It is dressed in a tattered purple racing uniform, with a red helmet and red fingerless gloves.
History
The "skeleton" was operated by a brother and sister who wanted to disrupt a monster truck race because they were too young to enter it themselves.
External links
Ad blocker interference detected!
Wikia is a free-to-use site that makes money from advertising. We have a modified experience for viewers using ad blockers

Wikia is not accessible if you've made further modifications. Remove the custom ad blocker rule(s) and the page will load as expected.