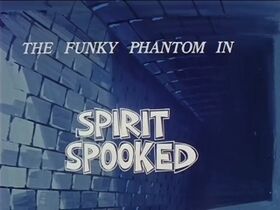 Spirit Spooked is the 6th episode of The Funky Phantom, it Originally aired on October 16, 1971.

Plot:
While competing in a race in Mexico, The Funky Phantom Gang is stopped by the Ghost of Montezuma and a Sun God. They also meet two men who both claim to be the archaeologist Professor Lundgren.
Ad blocker interference detected!
Wikia is a free-to-use site that makes money from advertising. We have a modified experience for viewers using ad blockers

Wikia is not accessible if you've made further modifications. Remove the custom ad blocker rule(s) and the page will load as expected.