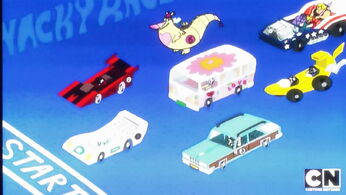 St.Louis Missouri Dash
Dexter's Wacky Races Episode 10
The race takes place in St. Louis,Missouri.
Winner:Dexter
2nd:Dee Dee and Koosy
3nd:Oceanbird and Windbear
00 Luke's cousin, Elmer, shot at 00 and filled it full of holes when he discovered he was lied to by Dastardly about being his cousin. The 'Double Zero' fell to pieces just before the finish line.
Ad blocker interference detected!
Wikia is a free-to-use site that makes money from advertising. We have a modified experience for viewers using ad blockers

Wikia is not accessible if you've made further modifications. Remove the custom ad blocker rule(s) and the page will load as expected.