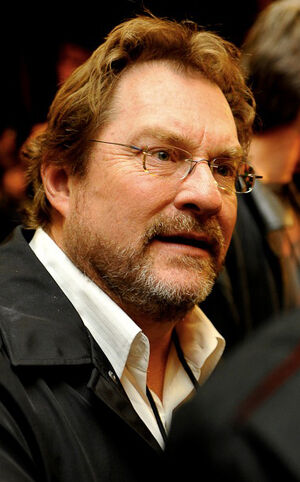 Stephen Root (born November 17, 1951, in Sarasota, Florida) is an American comic actor. He played Burt in Scooby-Doo! Camp Scare.
Biography
One of the most prolific character actors working today, Stephen Root has worked alongside many of the biggest names in Hollywood. Born in Sarasota, Florida, Root majored in acting and broadcasting at the University of Florida and remains a die-hard Gator fan.
After three years of touring the United States and Canada with the National Shakespeare Company, Root settled in New York, honing his craft in many regional theaters and starring off-Broadway in Journey's End and The Au Pair Man. His Broadway debut came in So Long on Lonely Street, which was followed by the Tony award-winning production of All My Sons, with Richard Kiley. A starring role as Boolie in the Broadway national touring company of Driving Miss Daisy, with Julie Harris, brought Root to Los Angeles, where he now resides. Back on the boards, he recently starred with Helen Hunt and Lyle Lovett in Much Ado About Nothing, an LA Shakespeare Production. His first acting role on screen came in George A. Romero's cult horror classic Monkey Shines (1988).
After that, many more under-the-radar supporting roles came his way until he found some moderate fame in the acclaimed series NewsRadio (1995), where he played the somewhat eccentric radio station owner Jimmy James, with Dave Foley as the station manager. The show ran from 1995 to 1999. Root has played more eccentric characters in recent years, voicing several characters in the hit animated TV series King of the Hill (1997), a show created by and starring Mike Judge.
Judge would later cast Root in another cult classic film, Office Space (1999), where Root played the squirrelly and unforgettable Milton Waddams, a man who is pushed around at work and has a fetish for Swingline staplers. More recently, Root has worked with such directors as the Coen brothers and Kevin Smith, creating more oddball characters as well as making guest appearances on numerous TV shows.
External links
Ad blocker interference detected!
Wikia is a free-to-use site that makes money from advertising. We have a modified experience for viewers using ad blockers

Wikia is not accessible if you've made further modifications. Remove the custom ad blocker rule(s) and the page will load as expected.