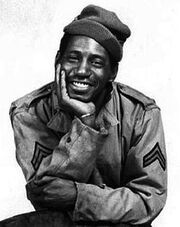 Stuart Byron Gilliam
(born July 27, 1943, in Detroit) is an American comic actor. He was the voice of Freddie "Curly" Neal on
The Harlem Globetrotters
,
The New Scooby-Doo Movies
and
The Super Globetrotters
.
Gilliam had guest roles on many other TV shows, including The Jonathan Winters Show (1969), The Hollywood Squares (1970/71) and Match Game '73.
External links
Ad blocker interference detected!
Wikia is a free-to-use site that makes money from advertising. We have a modified experience for viewers using ad blockers

Wikia is not accessible if you've made further modifications. Remove the custom ad blocker rule(s) and the page will load as expected.