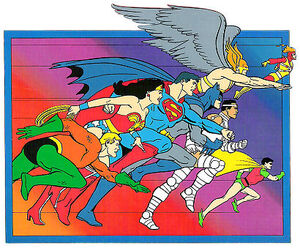 Super Friends was a long-running animated franchise, featuring superheroes based on the Justice League of America and associated comic book characters published by DC Comics. The series was produced by Hanna-Barbera for ABC. It ran from 1973 to 1986. The five core heroes were Superman, Wonder Woman, Aquaman, Batman and Robin.
The name of the program, and the JLA members featured with the Super Friends, have been variously represented (such as Super Friends and Challenge of the Superfriends) at different points in its broadcast history. There were a total of 109 episodes, along with two crossover episodes of The New Scooby-Doo Movies. Batman & Robin appeared in "The Dynamic Scooby-Doo Affair" and "The Caped Crusader Caper".
Series history
Super Friends (1973)
The All-New Super Friends Hour (1977)
Ad blocker interference detected!
Wikia is a free-to-use site that makes money from advertising. We have a modified experience for viewers using ad blockers

Wikia is not accessible if you've made further modifications. Remove the custom ad blocker rule(s) and the page will load as expected.