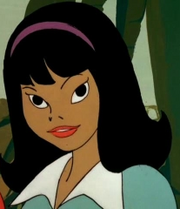 Suzie Chan is one of the main characters/Chan kids in The Amazing Chan and the Chan Clan. Her design and personality are similar to Daphne Blake. She is voiced by Virginia Ann Lee. She has a crush on Prince Hareem, a friend of her older brother Henry.
Appearance
She has long black hair, and wears a blue and white dress with a lavender belt and hairband.
Gallery
Ad blocker interference detected!
Wikia is a free-to-use site that makes money from advertising. We have a modified experience for viewers using ad blockers

Wikia is not accessible if you've made further modifications. Remove the custom ad blocker rule(s) and the page will load as expected.