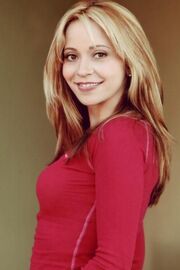 Tara Strong (born Tara Lyn Charendoff, February 12, 1973, in Toronto) is a prolific Canadian voice actress. Her voice credits for Hanna-Barbera and Warner Bros. include:
Biography
Tara Strong, well known for playing young boys in cartoons, is a natural brunette who dyes her hair blond. She and her husband, Craig Strong, have been married since May 2000. They have two sons, Sammy and Aden.
Strong was raised in the Jewish faith. Like Casey Kasem, she is a staunch vegetarian. She deeply loved working on Drawn Together (2004), considering it fun for the most part because it was such a departure from the family-friendly productions on which she was used to working at the time. While generally tolerant of the show's Jewish humor, she did have a few problems when it came to a few jokes about Holocaust-era Jewish writer Anne Frank.
Strong has profiles on both MySpace and Facebook. She has stated in interviews that she would like to star in more live-action productions, but is constantly preoccupied with voiceover work and thus simply cannot find the time.
External links
Ad blocker interference detected!
Wikia is a free-to-use site that makes money from advertising. We have a modified experience for viewers using ad blockers

Wikia is not accessible if you've made further modifications. Remove the custom ad blocker rule(s) and the page will load as expected.