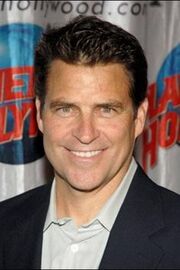 Theodore Martin McGinley
(born May 30, 1958, in Newport Beach, California) is an American actor. He played Thornton "Thorny" Blake V in
Scooby-Doo! Curse of the Lake Monster
.
Biography
Theodore Martin "Ted" McGinley was born on May 30, 1958, in Newport Beach, California. He is perhaps best known for his roles in the television series Happy Days (1974), The Love Boat (1977), Dynasty (1981), Married with Children (1987) and The West Wing (1999). Formerly a male model, McGinley was spotted by a casting director after appearing in GQ magazine, and was subsequently offered the role of Roger Phillips in Happy Days.
McGinley is no stranger to film, either, having appeared in a string of features including Young Doctors in Love (1982), Revenge of the Nerds (1984), Wayne's World 2 (1993), Major League: Back to the Minors (1998) and Pearl Harbor (2001).
External links
Ad blocker interference detected!
Wikia is a free-to-use site that makes money from advertising. We have a modified experience for viewers using ad blockers

Wikia is not accessible if you've made further modifications. Remove the custom ad blocker rule(s) and the page will load as expected.