Teeny Tim is Kitty Jo's pet dog on Cattanooga Cats, appearing only in music videos and gag shorts.
In appearence, he resembles an Old English Sheepdog dyed blue, with an olive-drab face.
Videos where Teeny Tim appears
(All these appear on YouTube)
"Incompatible"
"Merry-Go-Round"
"The Story of My Life"
"Sittin' by the Fire (Cold Wisconsin Night)"
"I Wish That I Was a Fire"
"Birthday Suit"
"Magic Machine"
"Honey"
"Super Love"
"Come Back, Baby, Come Back"
"Do You Dig the Music?"
"It's Summertime"
"Country Carnival"
"Love Won't Stay Away"
"I Want to Sleep Tonight"
Related article: Cattanooga Cats song lyrics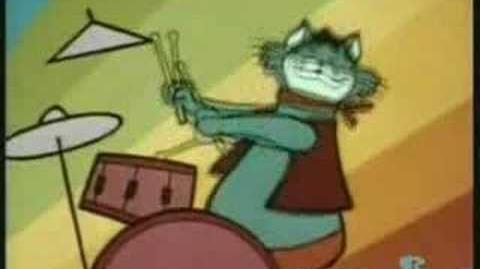 Ad blocker interference detected!
Wikia is a free-to-use site that makes money from advertising. We have a modified experience for viewers using ad blockers

Wikia is not accessible if you've made further modifications. Remove the custom ad blocker rule(s) and the page will load as expected.