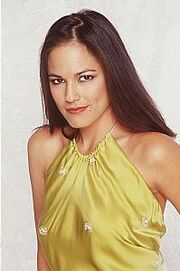 Theresa Lynn Ann Evelyn "Terri" Ivens
(born June 23, 1967, in Newport Beach, California) is an American actress, best known for her role as Simone Torres (2002–07) on the
ABC
soap opera
All My Children
. For Hanna-Barbera, she played Debbie Baxter on
Wake, Rattle & Roll
.
Ivens is a former national finalist as Nevada's Junior Miss. She and her husband, Mark Osgood, have been married since 2004. Their daughter, Kiana Elle Osgood, was born in October 2004.
External links
Ad blocker interference detected!
Wikia is a free-to-use site that makes money from advertising. We have a modified experience for viewers using ad blockers

Wikia is not accessible if you've made further modifications. Remove the custom ad blocker rule(s) and the page will load as expected.