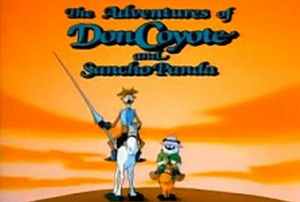 The Adventures of Don Coyote and Sancho Panda is an animated series produced by Hanna-Barbera in 1989 for European television. The following year, the series became part of The Funtastic World of Hanna-Barbera.
The lead characters are spoofs of the deluded knight errant Don Quixote and his level-headed companion Sancho Panza, who first appeared in a 1605 novel by Spanish author Miguel de Cervantes.
Voice cast
Episodes
Season 1
Pity the Poor Pirate
Not a Ghost of a Chance
The Horse Who Would Be King
Veni Vidi Viking
Don Coyote Meets Robin Hood
Rosinante by a Nose
The Reluctant Brides
Surely You Joust
Double Don
Don Coyote and the Flying Gargoyle
Don Coyote and the Masked Avenger
Shrink, Shrank, Shrunk
Who's Got the Genie?
Season 2
Sancho's Island
Vincente the Inventor
Sir Sancho the Nearly Knight
Don't Monkey with the Baby
Don Coyote and the Contessa
Don Coyote and the Deep Sea
A Knight in Arabia
Goodbye Rosinante
Don Coyote's Fire-Breathing Friend
The Haunted Inheritance
Don Coyote and the Feudin' Families
Don Coyote and the Christmas Bell
Don Coyote and the Secret Weapon
External links
Ad blocker interference detected!
Wikia is a free-to-use site that makes money from advertising. We have a modified experience for viewers using ad blockers

Wikia is not accessible if you've made further modifications. Remove the custom ad blocker rule(s) and the page will load as expected.